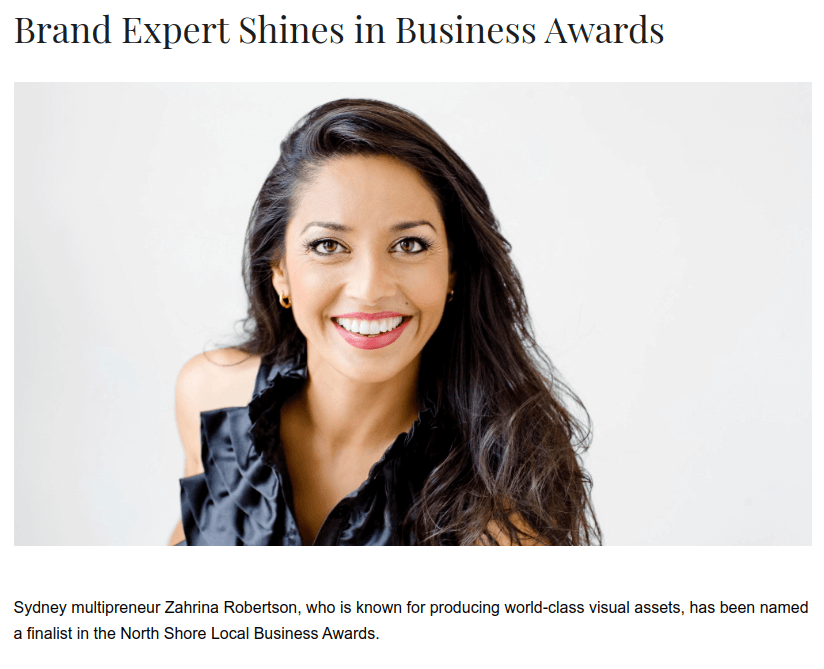 Brand Expert Shines in Business Awards Finalist
Sydney multipreneur Zahrina Robertson, who is known for producing world-class visual assets, has been named a finalist in the North Shore Local Business Awards.
True Blue Magazine Feature
True Blue Magazine featured Zahrina Robertson over 6 pages sharing her art story. Check out the video…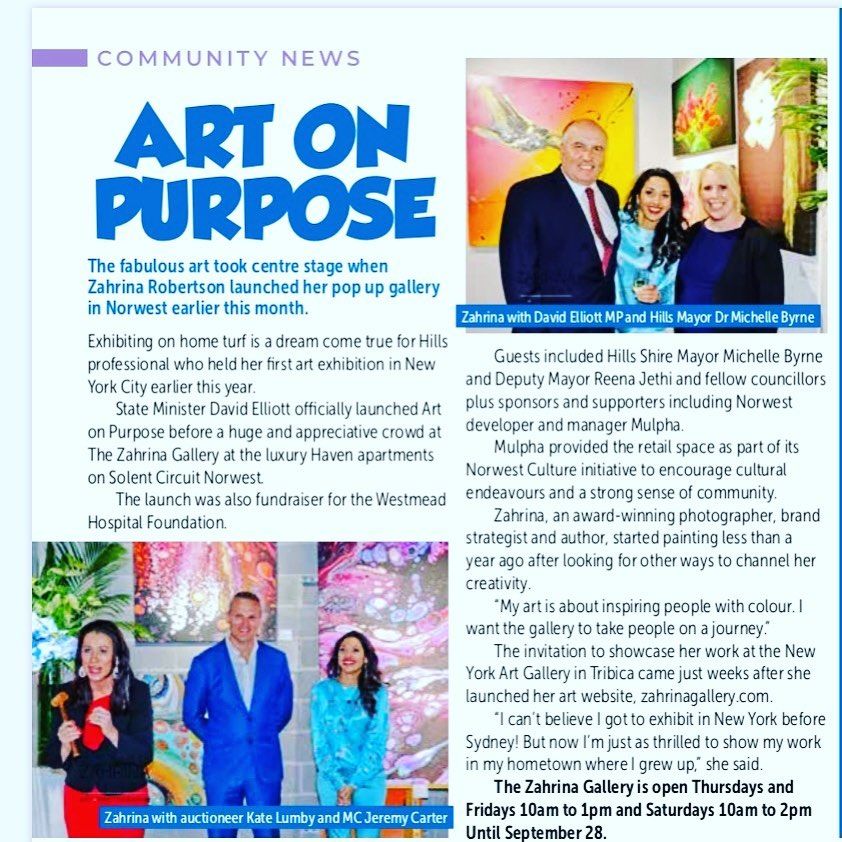 CORPORATE LAUNCH with Zahrina
State Minister, David Elliot and Hills Mayor Dr. Michelle Byrne opened the Art On Purpose art gallery exhibition opening of Zahrina Robertson's Australian art launch. Corporates, Entrepreneurs business leaders, and many more attended the VIP launch of Zahrina Robertson's Art Online Gallery, ZahrinaGallery.com
Personal Brand Body Image Stories- Channel Nine TV Interview
Today I was interviewed on National TV for Ch.9 – Channel Nine News to provide my opinion on a personal brand image story hitting the headlines.
This personal brand body story is about an international USA pilates fitness blogger's personal brand and the tirade of unnecessary abuse she has had to deal with about her own fit appearance.
As a personal brand one needs to grow a thick skin if you are a blogger or any person in the public eye. It's part and parcel of your journey.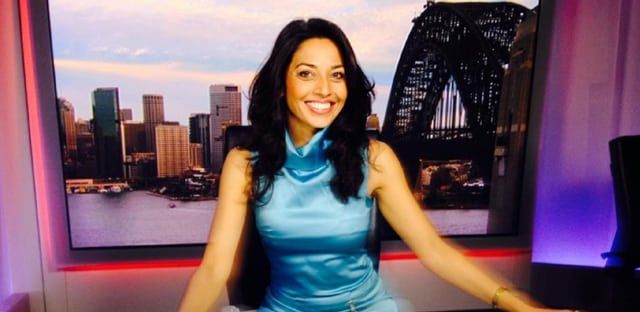 MAGNETIC BRANDING - The Complete Guide for a Brand That Attracts! Book Launch - Zahrina Robertson
Official Book Launch Event of Speaker, Author, Multi Award Winning Photographer and Videographer and Artist.
Zahrina Robertson TV Interview on Ticker TV
Zahrina Robertson Asked by Ticker TV to help people build their brands.
How to Interpret Your Personal Brand Within a Joint Venture.
WATCH NOW – How to Interpret Your Personal Brand Within a Joint Venture Your Speaker and Host Zahrina Robertson.
What is Personal Branding & How to Develop it.
WATCH NOW – What is Personal Branding & How to Develop it. Your Speaker and Host Zahrina Robertson.
Rowena Millward
2023-06-09
Zahrina helps you create the highest quality speaker showreel. I loved the fact that she knew how to design it around me (my personality, my style, my branding) and that she puts the whole thing together - from concept, mini-shoot, live filming, additional footage and editing. It was also so fun to be part of! I would absolutely recommend this to anyone looking for a professional showreel that highlights the real you.
Zahrina is an amazing talent, fun, engaging and a true professional.
Stephen Licciardello
2023-05-27
I had the pleasure of working with Zahrina Robertson, and I must say, her expertise in visual storytelling and personal branding is truly exceptional. From start to finish, Zahrina demonstrated professionalism, creativity, and a deep understanding of my brand vision. Zahrina's ability to capture the essence of my story and translate it into visually stunning assets exceeded my expectations. Her attention to detail and keen eye for aesthetics brought my brand to life in ways I couldn't have imagined. Not only is Zahrina incredibly talented, but she is also a joy to work with. Her positive energy, passion, and genuine commitment to helping her clients succeed are evident in every interaction. She goes above and beyond to ensure that her clients feel supported and empowered throughout the entire process. I highly recommend Zahrina to anyone looking to elevate their personal brand and create a lasting impact. Her expertise, creativity, and dedication are unmatched. Thank you, Zahrina, for your exceptional work and for helping me tell my story in the most captivating and authentic way possible. Five stars all the way!
Rochelle Courtenay
2023-05-23
Zahrina photographed our Sydney high tea for Share the Dignity with 500 people. Zahrina was effervescent and the ultimate professional!
Peter Nicholls
2023-03-09
Zahrina is a beautiful lady who is has created her own beautiful life. A life she shares magnificently with us all through the magic of photos, videos and work.
Zahrina is super personable and so very talented not only as a photographer, public motivational speaker but also as an artist. She is energetic, engaging, and a lot of fun!
Gavin McSherry
2023-01-24
Highly recommend Zahrina and her team.
If you're looking for professionalism, and a way to get your message across, then Zahrina Photography is who you need to choose!
Therese Tarlinton
2022-12-04
Total pro with lots to offer professional speakers. Really lovely, generous woman too.
Andrew Laggner
2022-11-06
It was an awesome event and an eye opener for me. I love it so much that it gave me lots to think about. The crew was professional and consistent. I loved the set up. I never thought I wasn't able to do a great job. I recommend this event to anyone who wants to experience and expand the circle of professionalism in a safe environment. Zahrina is the best in the industry. She is passionate at helping you reach goals in becoming the next big speaker. Just go for it. You will not regret it.
I invite you to connect …